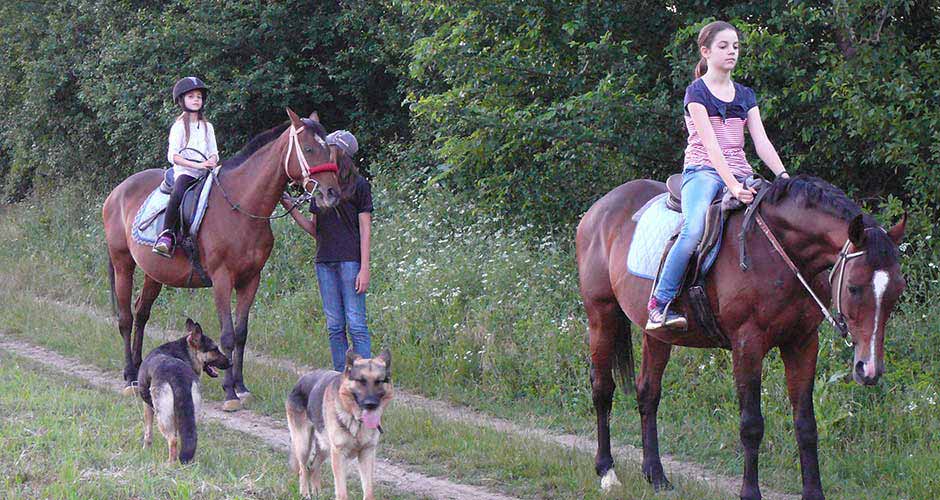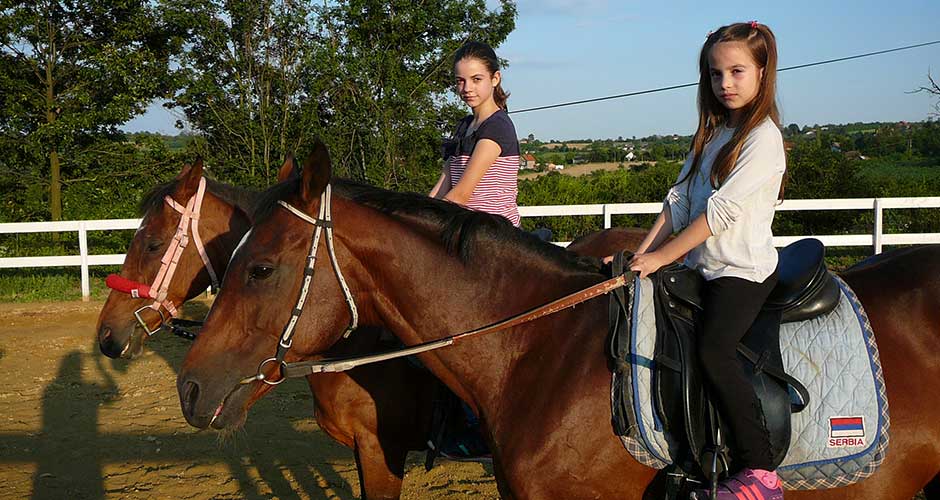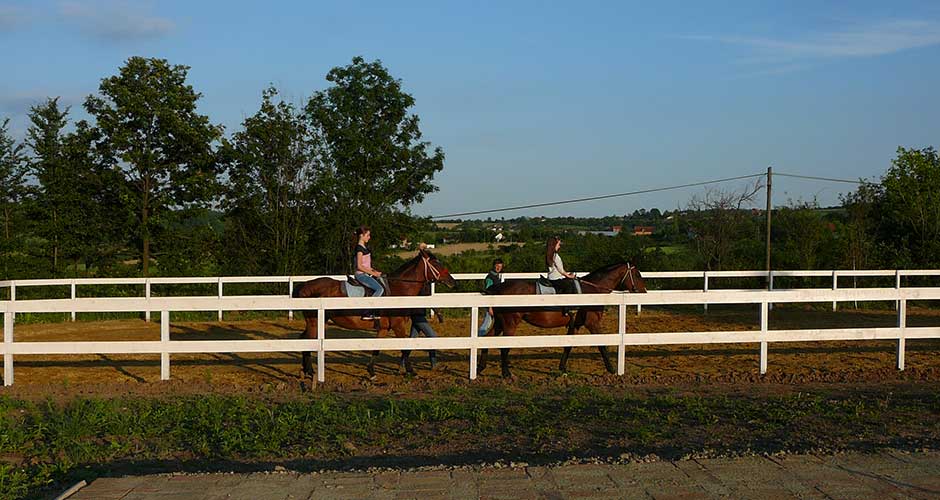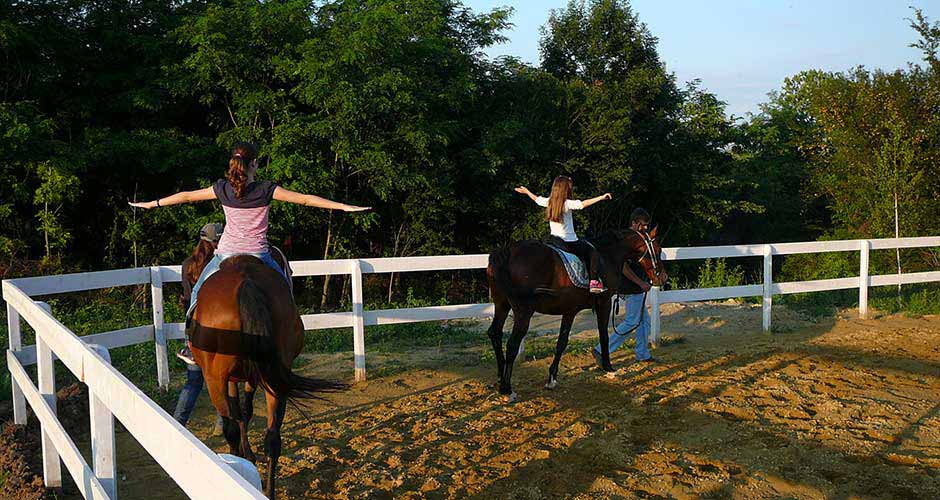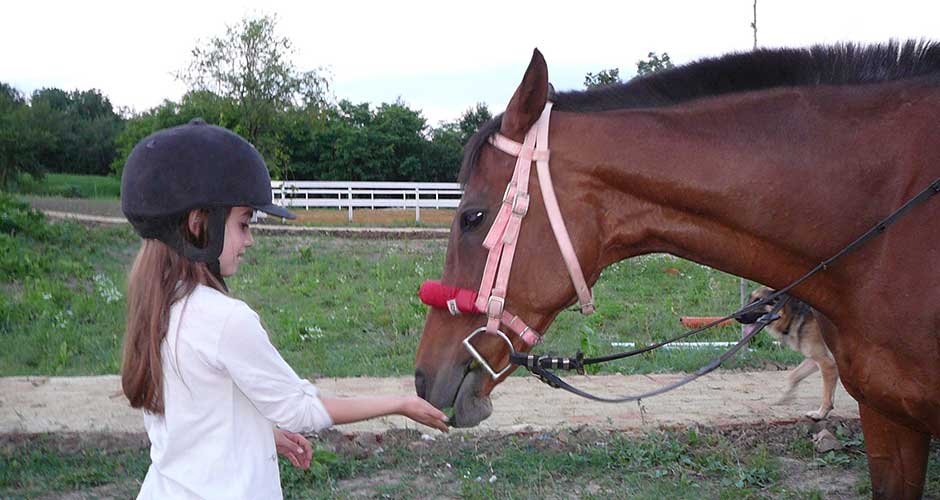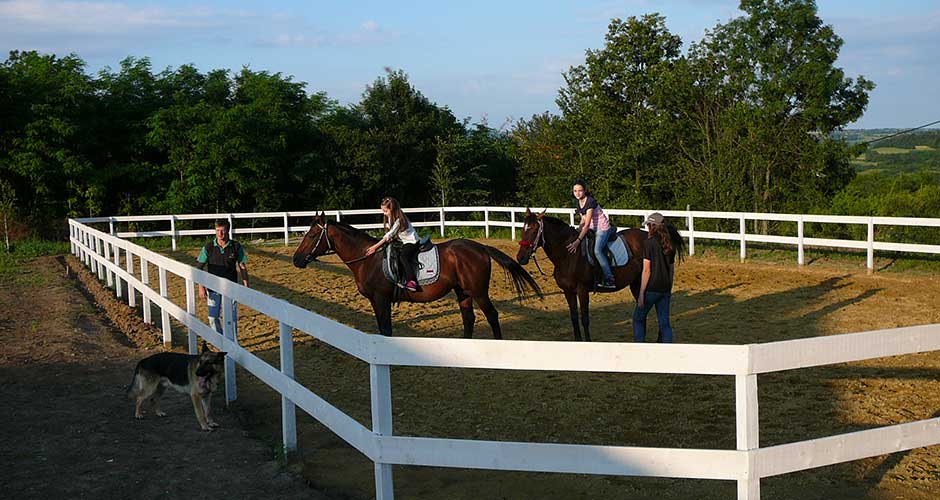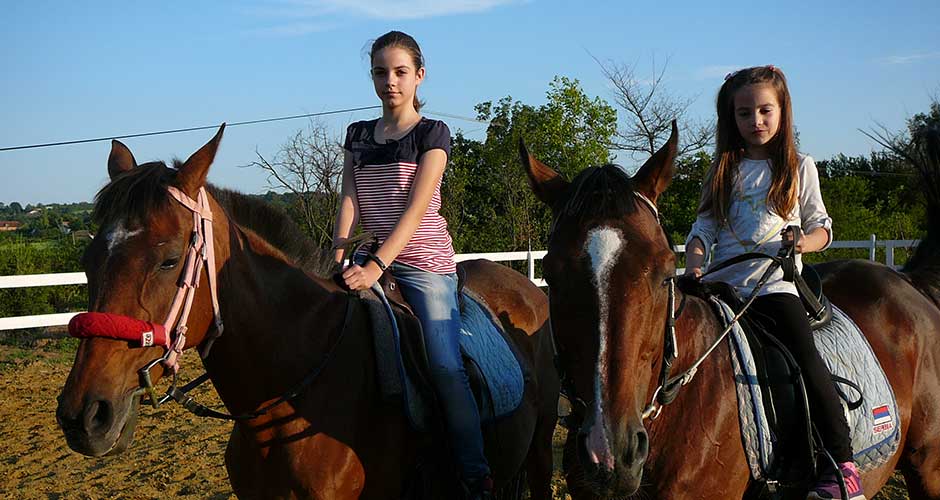 Only 30 minutes' drive from Belgrade, in the heart of Šumadija, in front of Mladenovac, on the slopes of Kosmaj welcomes you a delightful folk ambience, beautiful nature, friendly hosts and experienced instructors of horseback riding.
Treat yourself with an unforgettable vacation on the back the English thoroughbred galloping horse and recharge yourself with the energy that emanates from these noble animals as well as from the natural environment. You will experience life in a completely different way while you're crossing the slopes of Kosmaj, only hearing the hoof beats of your horse.
In addition to the group or individual riding in the countryside, you can also use the manege (the enclosure strewn with sand), which is very suitable for the first riding lessons accompanied by the experienced and dedicated instructors.
We are witnesses of a very successful therapeutic riding which has many positive effects on a variety of diseases, especially in children with certain developing disorders. Horseback riding and spending time with horses is equated with the effect of socializing with dolphins and it is a scientifically proven method of treatment which is applied in many countries and it is covered by the health system and insurance. You will notice how your overall health and mood improves as you combine hippotherapy, socializing with other animals in this natural environment full of oxygen and taste organic food and drinks.
By calling the number 060 55 60 763 you can reserve the special time for horse riding or get other information about the events in our ethno-community!
If you sign up to our newsletters or join our Facebook page, you will be informed in advance of all activities in our eco-community. Except horseback riding, on weekends we also organize educational trainings(training in recognizing herbs or mushrooms, making of pottery, archery, cooking ethnic food and beverages, healthy farming without chemical pesticides and fertilizers, etc.), walking tours and hiking to the top of Kosmaj , visiting monasteries, tasting the best wine in Serbia, camps for parents and children and other numerous activities.
You can spend your time on the property in playing with many animals who like company of people such as alpine goats, pigs, the German Shepherd dogs, rabbits and other feathered and small animals.